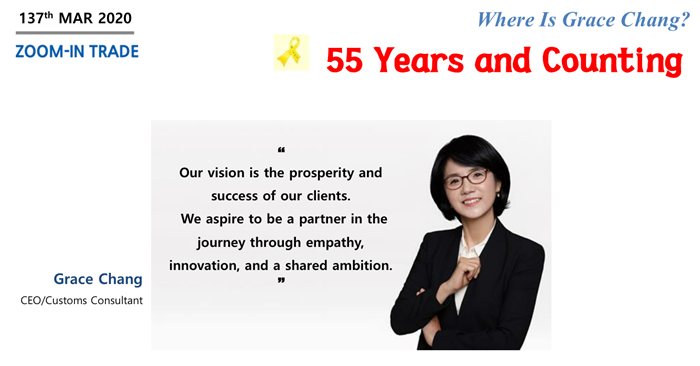 It's 1963 and a young man hurries with a large bundle of documents from his office in Namdaemun towards the Seoul Customs Office in Yongsan. It hasn't even been 10 years since the Korean War ended and the nation is still in the process of recovering. But the seeds of the Korean economic miracle are starting to sprout and Korea's export rate is growing more than 40% per year. The young man can sense the energy, the potential, the hope.
Korea's Customs Agency conducted its first national license exams for Customs Brokerage in late 1964, and that young man, Chang Heung Jin became the 84th licensed customs broker of Korea.
In March 1965, he founded Seoul Customs Brokerage, what we now know as SHINHAN Customs Service. The first office was located less than 500 meters from the Seoul Customs Office and he hustled back and forth multiple times a day to get the job done for his clients.
Clearing cargo in customs warehouses rapidly, yet accurately, has been the top priority for customs house brokers since SHINHAN was founded 55 years ago. The world is now very different and SHINHAN has constantly innovated to ensure the best services for our clients. Our consulting services support our global clients as a one stop shop partner in all areas of customs such as customs audits, FTA and AEO system processes, and foreign exchange transactions.
55 years in and going strong -
We have customers who have been with us for decades, and customers who will be with us for decades to come.
We have colleagues who have been with us for decades, and colleagues who will be with us for decades to come.
Our vision is the prosperity and success of our clients. We aspire to be a partner in the journey through empathy, innovation, and a shared ambition.
This has been our mission statement for 55 years, and we are committed to adhering to this very mission for decades to come.
With this shared mission, our motto "Passion, Innovation, Teamwork, and Integrity" is our daily driver in providing world class services to our clients.
Thank you for being a valued partner, and we always appreciate your feedback and continuous support.
Sincerely.
If you have any questions?
esyoon@shcs.kr
Please find details on our website in here.
http://blog.naver.com/shinhan22